OLA
Anchorvale Crescent EC
Last Updated on 09 AUG 2020
Showflat Re-open With Special Promotion!
Book an appointment with us for VVIP Showflat Viewing or click below for the virtual tour
https://97738372-ola.eraprojects.sg/s-kvctemm2
---
Ola Project Information
Location

Anchorvale Crescent

Site Area

184,465.9 S

qft / 17,137.3 Sqm

Units / Block/ Storeys

548 Units / 9 Block / 16 Storeys (2, 3, 4 bedroom & 5 bedroom Penthouse)

Car Park Capacity

548

Expected T.O.P.

Sept 2024

Tenure

99 years Leasehold

Developer

Evia Real Estate and Gamuda
Ola Location Map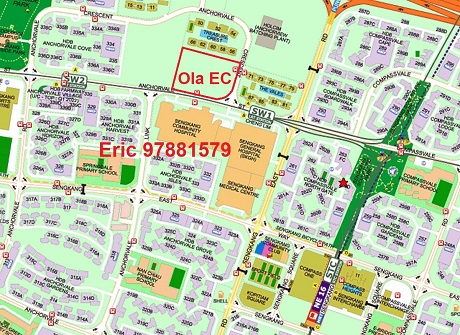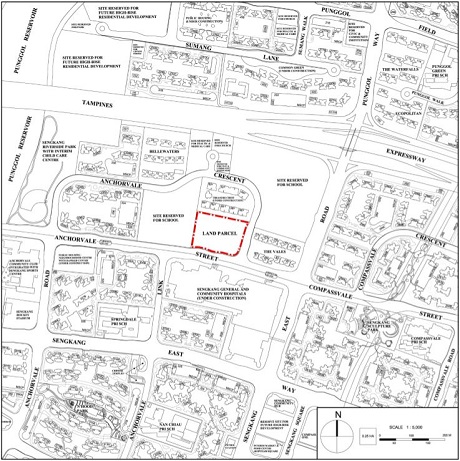 Ola Photos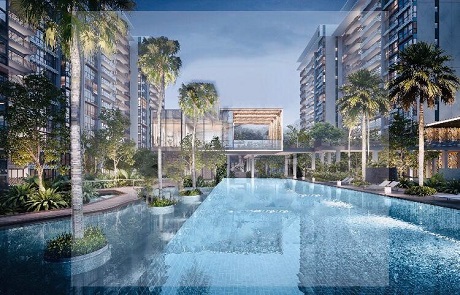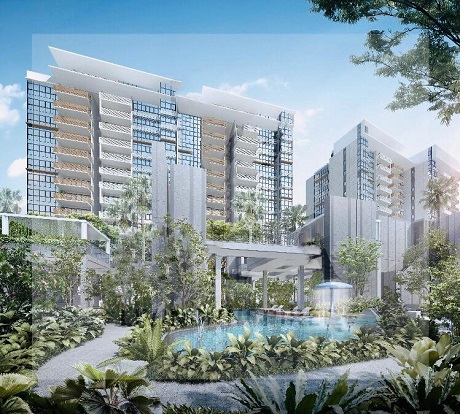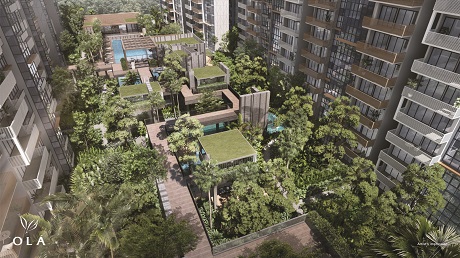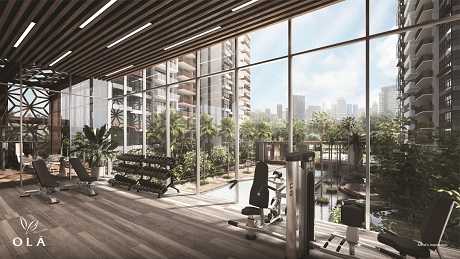 Ola 3 bedroom Premium 98sqm/1055sqft Show Unit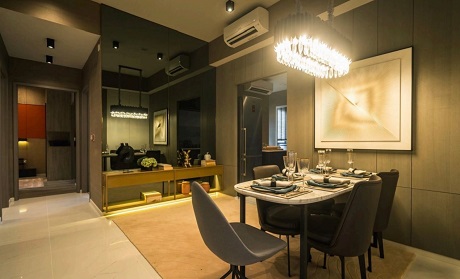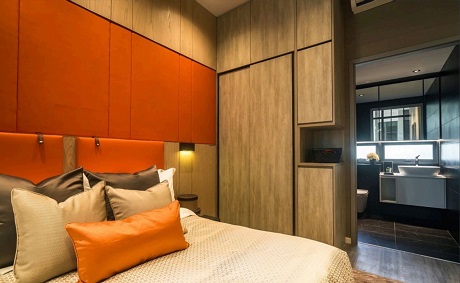 Ola 3 bedroom Premium 98sqm/1055sqft Floor Plan
---
Review of Ola EC
Anchorvale Crescent EC (Ola) Site received seven bids at the close of the tender on Friday (Sep 14). The 17,137-sq-m land parcel can yield 548 units. Estimate Average selling price of S$1,100 psf.
Expected to complete by December 2023 , Ola offers a mix of unit type 2 to 5 bedroom penthouse units and floor sizes ranging from 775 square feet to 1722 square feet.
Ola is a branded development inspired by the contemporary Spanish lifestyle. Featuring high-end Spanish-made ornaments and painting from famous Spanish artist Eva Armisen.
OLa is an exclusive alcove nested in the second most populous town in the Singpare North-East region. EC in Sengkang.
Ola is Located at Anchorvale Street, a 2 minutes drive from Nan Chiau Primary School.
Ola is surrounded by various amenties such as Sengkang Sports Centre and Sengkang MRT.
Within walking distance to Compass One and Sengkang MRT
Lifestyle-centric developement with unique tie-ups with world famous brands
---
Ola Unit Mix
| | | | |
| --- | --- | --- | --- |
| Room Type | No. of Units | Sqm | Sqft |
| 2 Bedroom | 30 | 72 | 775 |
| 3 Bedroom | 148+48 | 86-88 | 926-947 |
| 3+1 Bedroom Deluxe | 15 | 93 | 1,001 |
| 3 Bedroom Premium | 211 | 98 | 1,050 |
| 4 Bedroom | 87 | 129 | 1,389 |
| 5 Bedroom Penthouse | 9 | 160 | 1,722 |
Ola Price List
| | | | |
| --- | --- | --- | --- |
| Type | Lo PSF | Lo Price | Hi Price |
| 2 Bedroom | $1,152 | $893,000 | $949,000 |
| 3 Bedroom | $1,022 | $961,000 | $1,095,000 |
| 3 BR Deluxe | $1,168 | $1,170,000 | $1,249,000 |
| 3 BR Premium | $1,056 | $1,115,000 | $1,342,000 |
| 4 Bedroom | $1,000 | $1,389,000 | $1,690,000 |
| 5 BR Penthouse | $1,166 | $2,008,000 | $2,021,000 |
Ola Estimated Maintenance Fees
| | | |
| --- | --- | --- |
| Room Type | Share Value | Estimate Maintenance Fund |
| 2 Bedroom | 6 | $300-$330 |
| 3 Bedroom | 6 | $300-$330 |
| 4 Bedroom | 7 | $350-$385 |
| 5 Bedroom PH | 7 | $400-$440 |
Ola Site Plan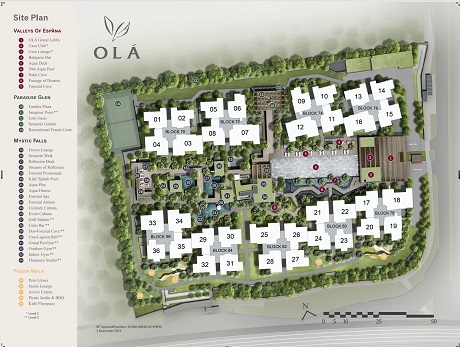 Ola Available Unit
| | | | | | | |
| --- | --- | --- | --- | --- | --- | --- |
| Blk | Units No. | Room | Type | Sqm | Sqft | Remarks |
| 70 | 01-01 | 3 BR | B1-P | 86 | 926 | |
| 70 | 02-01 | 3 BR | B1-1 | 86 | 926 | |
| 70 | 03-01 | 3 BR | B1 | 86 | 926 | |
| 70 | 04-01 | 3 BR | B1-3 | 86 | 926 | |
| 70 | 05-01 | 3 BR | B1-1 | 86 | 926 | |
| 70 | 06-01 | 3 BR | B1 | 86 | 926 | |
| 70 | 08-01 | 3 BR | B1-1 | 86 | 926 | |
| 70 | 09-01 | 3 BR | B1 | 86 | 926 | |
| 70 | 10-01 | 3 BR | B1-3 | 86 | 926 | |
| 70 | 11-01 | 3 BR | B1-1 | 86 | 926 | |
| 70 | 12-01 | 3 BR | B1 | 86 | 926 | |
| 70 | 13-01 | 3 BR | B1-3 | 86 | 926 | |
| 70 | 14-01 | 3 BR | B1-1 | 86 | 926 | |
| 70 | 15-01 | 3 BR | B1 | 86 | 926 | |
| 70 | 01-02 | 3 BR | B1-P | 86 | 926 | |
| 70 | 04-02 | 3 BR | B1-3 | 86 | 926 | |
| 70 | 05-02 | 3 BR | B1-1 | 86 | 926 | |
| 70 | 11-02 | 3 BR | B1-1 | 86 | 926 | |
| 70 | 12-02 | 3 BR | B1 | 86 | 926 | |
| 70 | 13-02 | 3 BR | B1-3 | 86 | 926 | |
| 70 | 14-02 | 3 BR | B1-1 | 86 | 926 | |
| 70 | 15-02 | 3 BR | B1 | 86 | 926 | |
| 70 | 01-03 | 4 BR Premium | C1-P | 129 | 1389 | |
| 70 | 02-03 | 4 BR Premium | C1-1 | 129 | 1389 | |
| 70 | 03-03 | 4 BR Premium | C1 | 129 | 1389 | |
| 70 | 04-03 | 4 BR Premium | C1-3 | 129 | 1389 | |
| 70 | 05-03 | 4 BR Premium | C1-1 | 129 | 1389 | |
| 70 | 08-03 | 4 BR Premium | C1-1 | 129 | 1389 | |
| 70 | 11-03 | 4 BR Premium | C1-1 | 129 | 1389 | |
| 70 | 13-03 | 4 BR Premium | C1-3 | 129 | 1389 | |
| 70 | 14-03 | 4 BR Premium | C1-1 | 129 | 1389 | |
| 70 | 15-03 | 4 BR | C1 | 129 | 1389 | |
| 70 | 16-03 | 5 BR-PH | PH1 | 160 | 1722 | |
| 70 | 01-04 | 3 BR Premium | B5A-P | 98 | 1055 | |
| 70 | 02-04 | 3 BR Premium | B5A | 98 | 1055 | |
| 70 | 03-04 | 3 BR Premium | B5A | 98 | 1055 | |
| 70 | 04-04 | 3 BR Premium | B5A-1 | 98 | 1055 | |
| 70 | 05-04 | 3 BR Premium | B5A | 98 | 1055 | |
| 70 | 08-04 | 3 BR Premium | B5A | 98 | 1055 | |
| 70 | 09-04 | 3 BR Premium | B5A | 98 | 1055 | |
| 70 | 10-04 | 3 BR Premium | B5A-1 | 98 | 1055 | |
| 70 | 11-04 | 3 BR Premium | B5A | 98 | 1055 | |
| 70 | 12-04 | 3 BR Premium | B5A | 98 | 1055 | |
| 70 | 13-04 | 3 BR Premium | B5A-1 | 98 | 1055 | |
| 70 | 14-04 | 3 BR Premium | B5A | 98 | 1055 | |
| 70 | 15-04 | 3 BR Premium | B5A | 98 | 1055 | |
| 72 | 01-05 | 3 BR | B1-P | 86 | 926 | |
| 72 | 02-05 | 3 BR | B1-1 | 86 | 926 | |
| 72 | 03-05 | 3 BR | B1 | 86 | 926 | |
| 72 | 04-05 | 3 BR | B1-3 | 86 | 926 | |
| 72 | 05-05 | 3 BR | B1-1 | 86 | 926 | |
| 72 | 08-05 | 3 BR | B1-1 | 86 | 926 | |
| 72 | 13-05 | 3 BR | B1-3 | 86 | 926 | |
| 72 | 14-05 | 3 BR | B1-1 | 86 | 926 | |
| 72 | 15-05 | 3 BR | B1 | 86 | 926 | |
| 72 | 01-06 | 3 BR | B2-P | 88 | 947 | |
| 72 | 02-06 | 3 BR | B2-1 | 88 | 947 | |
| 72 | 03-06 | 3 BR | B2 | 88 | 947 | |
| 72 | 04-06 | 3 BR | B2-2 | 88 | 947 | |
| 72 | 13-06 | 3 BR | B2-2 | 88 | 947 | |
| 72 | 14-06 | 3 BR | B2-1 | 88 | 947 | |
| 72 | 01-07 | 4 BR Premium | C1-P | 129 | 1389 | |
| 72 | 02-07 | 4 BR Premium | C1-1 | 129 | 1389 | |
| 72 | 03-07 | 4 BR Premium | C1 | 129 | 1389 | |
| 72 | 04-07 | 4 BR Premium | C1-3 | 129 | 1389 | |
| 72 | 05-07 | 4 BR Premium | C1-1 | 129 | 1389 | |
| 72 | 06-07 | 4 BR Premium | C1 | 129 | 1389 | |
| 72 | 07-07 | 4 BR Premium | C1-3 | 129 | 1389 | |
| 72 | 08-07 | 4 BR Premium | C1-1 | 129 | 1389 | |
| 72 | 09-07 | 4 BR Premium | C1 | 129 | 1389 | |
| 72 | 10-07 | 4 BR Premium | C1-3 | 129 | 1389 | |
| 72 | 11-07 | 4 BR Premium | C1-1 | 129 | 1389 | |
| 72 | 12-07 | 4 BR Premium | C1 | 129 | 1389 | |
| 72 | 13-07 | 4 BR Premium | C1-3 | 129 | 1389 | |
| 72 | 14-07 | 4 BR Premium | C1-1 | 129 | 1389 | |
| 72 | 15-07 | 4 BR Premium | C1 | 129 | 1389 | |
| 72 | 03-08 | 3 BR Premium | B5 | 98 | 1055 | |
| 72 | 04-08 | 3 BR Premium | B5-2 | 98 | 1055 | |
| 72 | 05-08 | 3 BR Premium | B5 | 98 | 1055 | |
| 72 | 14-08 | 3 BR Premium | B5 | 98 | 1055 | |
| 72 | 15-08 | 3 BR Premium | B5 | 98 | 1055 | |
| 74 | 01-09 | 3 BR | B2-P | 88 | 947 | |
| 74 | 02-09 | 3 BR | B2-1 | 88 | 947 | |
| 74 | 03-09 | 3 BR | B2 | 88 | 947 | |
| 74 | 04-09 | 3 BR | B2-2 | 88 | 947 | |
| 74 | 06-09 | 3 BR | B2 | 88 | 947 | |
| 74 | 07-09 | 3 BR | B2-2 | 88 | 947 | |
| 74 | 08-09 | 3 BR | B2-1 | 88 | 947 | |
| 74 | 10-09 | 3 BR | B2-2 | 88 | 947 | |
| 74 | 11-09 | 3 BR | B2-1 | 88 | 947 | |
| 74 | 12-09 | 3 BR | B2 | 88 | 947 | |
| 74 | 13-09 | 3 BR | B2-2 | 88 | 947 | |
| 74 | 14-09 | 3 BR | B2-1 | 88 | 947 | |
| 74 | 15-09 | 3 BR | B2 | 88 | 947 | |
| 74 | 16-09 | 3 BR | B2-R | 88 | 947 | |
| 74 | 02-10 | 3 BR | B1-1 | 86 | 926 | |
| 74 | 04-10 | 3 BR | B1-3 | 86 | 926 | |
| 74 | 05-10 | 3 BR | B1-1 | 86 | 926 | |
| 74 | 06-10 | 3 BR | B1 | 86 | 926 | |
| 74 | 07-10 | 3 BR | B1-3 | 86 | 926 | |
| 74 | 08-10 | 3 BR | B1-1 | 86 | 926 | |
| 74 | 09-10 | 3 BR | B1 | 86 | 926 | |
| 74 | 13-10 | 3 BR | B1-3 | 86 | 926 | |
| 74 | 14-10 | 3 BR | B1-1 | 86 | 926 | |
| 74 | 15-10 | 3 BR | B1 | 86 | 926 | |
| 74 | 01-11 | 3 BR Premium | B5-P | 98 | 1055 | |
| 74 | 02-11 | 3 BR Premium | B5 | 98 | 1055 | |
| 74 | 09-11 | 3 BR Premium | B5 | 98 | 1055 | |
| 74 | 11-11 | 3 BR Premium | B5 | 98 | 1055 | |
| 74 | 14-11 | 3 BR Premium | B5 | 98 | 1055 | |
| 74 | 15-11 | 3 BR Premium | B5 | 98 | 1055 | |
| 74 | 01-12 | 4 BR Premium | C1-P | 129 | 1389 | |
| 74 | 02-12 | 4 BR Premium | C1-1 | 129 | 1389 | |
| 74 | 03-12 | 4 BR Premium | C1 | 129 | 1389 | |
| 74 | 04-12 | 4 BR Premium | C1-3 | 129 | 1389 | |
| 74 | 05-12 | 4 BR Premium | C1-1 | 129 | 1389 | |
| 74 | 06-12 | 4 BR Premium | C1 | 129 | 1389 | |
| 74 | 07-12 | 4 BR Premium | C1-3 | 129 | 1389 | |
| 74 | 09-12 | 4 BR Premium | C1 | 129 | 1389 | |
| 74 | 10-12 | 4 BR Premium | C1-3 | 129 | 1389 | |
| 74 | 11-12 | 4 BR Premium | C1-1 | 129 | 1389 | |
| 74 | 12-12 | 4 BR Premium | C1 | 129 | 1389 | |
| 74 | 13-12 | 4 BR Premium | C1-3 | 129 | 1389 | |
| 74 | 14-12 | 4 BR Premium | C1-1 | 129 | 1389 | |
| 74 | 15-12 | 4 BR Premium | C1 | 129 | 1389 | |
| 76 | 03-13 | 3 BR | B1 | 86 | 926 | |
| 76 | 04-13 | 3 BR | B1-3 | 86 | 926 | |
| 76 | 05-13 | 3 BR | B1-2 | 86 | 926 | |
| 76 | 06-13 | 3 BR | B1 | 86 | 926 | |
| 76 | 07-13 | 3 BR | B1-3 | 86 | 926 | |
| 76 | 08-13 | 3 BR | B1-2 | 86 | 926 | |
| 76 | 09-13 | 3 BR | B1 | 86 | 926 | |
| 76 | 10-13 | 3 BR | B1-3 | 86 | 926 | |
| 76 | 11-13 | 3 BR | B1-2 | 86 | 926 | |
| 76 | 12-13 | 3 BR | B1 | 86 | 926 | |
| 76 | 13-13 | 3 BR | B1-3 | 86 | 926 | |
| 76 | 14-13 | 3 BR | B1-2 | 86 | 926 | |
| 76 | 15-13 | 3 BR | B1 | 86 | 926 | |
| 76 | 16-13 | 3 BR | B1-R | 86 | 926 | |
| 76 | 03-14 | 3 BR | B1 | 86 | 926 | |
| 76 | 04-14 | 3 BR | B1-3 | 86 | 926 | |
| 76 | 05-14 | 3 BR | B1-1 | 86 | 926 | |
| 76 | 06-14 | 3 BR | B1 | 86 | 926 | |
| 76 | 07-14 | 3 BR | B1-3 | 86 | 926 | |
| 76 | 08-14 | 3 BR | B1-1 | 86 | 926 | |
| 76 | 09-14 | 3 BR | B1 | 86 | 926 | |
| 76 | 10-14 | 3 BR | B1-3 | 86 | 926 | |
| 76 | 11-14 | 3 BR | B1-1 | 86 | 926 | |
| 76 | 12-14 | 3 BR | B1 | 86 | 926 | |
| 76 | 13-14 | 3 BR | B1-3 | 86 | 926 | |
| 76 | 14-14 | 3 BR | B1-1 | 86 | 926 | |
| 76 | 15-14 | 3 BR | B1 | 86 | 926 | |
| 76 | 03-16 | 4 BR Premium | C1 | 129 | 1389 | |
| 76 | 16-16 | 5 BR-PH | PH1 | 160 | 1722 | |
| 78 | 01-17 | 3 BR Premium | B5A-P | 98 | 1055 | |
| 78 | 02-17 | 3 BR Premium | B5A | 98 | 1055 | |
| 78 | 03-17 | 3 BR Premium | B5A | 98 | 1055 | |
| 78 | 04-17 | 3 BR Premium | B5A-1 | 98 | 1055 | |
| 78 | 05-17 | 3 BR Premium | B5A | 98 | 1055 | |
| 78 | 13-17 | 3 BR Premium | B5A-1 | 98 | 1055 | |
| 78 | 15-17 | 3 BR Premium | B5A | 98 | 1055 | |
| 78 | 02-18 | 4 BR Premium | C1-1 | 129 | 1389 | |
| 78 | 03-18 | 4 BR Premium | C1 | 129 | 1389 | |
| 78 | 05-18 | 4 BR Premium | C1-1 | 129 | 1389 | |
| 78 | 14-18 | 4 BR Premium | C1-1 | 129 | 1389 | |
| 78 | 16-18 | 5 BR-PH | PH1 | 160 | 1722 | |
| 78 | 02-19 | 3 BR | B2-1 | 88 | 947 | |
| 78 | 03-19 | 3 BR | B2 | 88 | 947 | |
| 78 | 04-19 | 3 BR | B2-2 | 88 | 947 | |
| 78 | 05-19 | 3 BR | B2-1 | 88 | 947 | |
| 78 | 06-19 | 3 BR | B2 | 88 | 947 | |
| 78 | 07-19 | 3 BR | B2-2 | 88 | 947 | |
| 78 | 08-19 | 3 BR | B2-1 | 88 | 947 | |
| 78 | 09-19 | 3 BR | B2 | 88 | 947 | |
| 78 | 10-19 | 3 BR | B2-2 | 88 | 947 | |
| 78 | 11-19 | 3 BR | B2-1 | 88 | 947 | |
| 78 | 12-19 | 3 BR | B2 | 88 | 947 | |
| 78 | 13-19 | 3 BR | B2-2 | 88 | 947 | |
| 78 | 14-19 | 3 BR | B2-1 | 88 | 947 | |
| 78 | 15-19 | 3 BR | B2 | 88 | 947 | |
| 78 | 01-20 | 3 BR | B1-P | 86 | 926 | |
| 78 | 04-20 | 3 BR | B1-3 | 86 | 926 | |
| 78 | 05-20 | 3 BR | B1-1 | 86 | 926 | |
| 78 | 06-20 | 3 BR | B1 | 86 | 926 | |
| 78 | 08-20 | 3 BR | B1-1 | 86 | 926 | |
| 78 | 09-20 | 3 BR | B1 | 86 | 926 | |
| 78 | 10-20 | 3 BR | B1-3 | 86 | 926 | |
| 78 | 11-20 | 3 BR | B1-1 | 86 | 926 | |
| 78 | 12-20 | 3 BR | B1 | 86 | 926 | |
| 78 | 13-20 | 3 BR | B1-3 | 86 | 926 | |
| 78 | 14-20 | 3 BR | B1-1 | 86 | 926 | |
| 78 | 15-20 | 3 BR | B1 | 86 | 926 | |
| 80 | 02-21 | 3 BR Premium | B3 | 98 | 1055 | |
| 80 | 04-21 | 3 BR Premium | B3-1 | 98 | 1055 | |
| 80 | 10-21 | 3 BR Premium | B3-1 | 98 | 1055 | |
| 80 | 11-21 | 3 BR Premium | B3 | 98 | 1055 | |
| 80 | 12-21 | 3 BR Premium | B3 | 98 | 1055 | |
| 80 | 13-21 | 3 BR Premium | B3-1 | 98 | 1055 | |
| 80 | 14-21 | 3 BR Premium | B3 | 98 | 1055 | |
| 80 | 15-21 | 3 BR Premium | B3 | 98 | 1055 | |
| 80 | 02-22 | 3 BR Premium | B4-1 | 98 | 1055 | |
| 80 | 03-22 | 3 BR Premium | B4 | 98 | 1055 | |
| 80 | 04-22 | 3 BR Premium | B4-2 | 98 | 1055 | |
| 80 | 05-22 | 3 BR Premium | B4 | 98 | 1055 | |
| 80 | 11-22 | 3 BR Premium | B4-1 | 98 | 1055 | |
| 80 | 12-22 | 3 BR Premium | B4 | 98 | 1055 | |
| 80 | 13-22 | 3 BR Premium | B4-2 | 98 | 1055 | |
| 80 | 14-22 | 3 BR Premium | B4-1 | 98 | 1055 | |
| 80 | 15-22 | 3 BR Premium | B4 | 98 | 1055 | |
| 80 | 01-23 | 2 BR | A1-P | 72 | 775 | |
| 80 | 02-23 | 2 BR | A1 | 72 | 775 | |
| 80 | 03-23 | 2 BR | A1 | 72 | 775 | |
| 80 | 04-23 | 2 BR | A1-1 | 72 | 775 | |
| 80 | 05-23 | 2 BR | A1 | 72 | 775 | |
| 80 | 06-23 | 2 BR | A1 | 72 | 775 | |
| 80 | 07-23 | 2 BR | A1-1 | 72 | 775 | |
| 80 | 08-23 | 2 BR | A1 | 72 | 775 | |
| 80 | 09-23 | 2 BR | A1 | 72 | 775 | |
| 80 | 10-23 | 2 BR | A1-1 | 72 | 775 | |
| 80 | 12-23 | 2 BR | A1 | 72 | 775 | |
| 80 | 13-23 | 2 BR | A1-1 | 72 | 775 | |
| 80 | 14-23 | 2 BR | A1 | 72 | 775 | |
| 80 | 15-23 | 2 BR | A1 | 72 | 775 | |
| 80 | 01-24 | 3 BR Premium | B5-P | 98 | 1055 | |
| 80 | 02-24 | 3 BR Premium | B5-1 | 98 | 1055 | |
| 80 | 03-24 | 3 BR Premium | B5 | 98 | 1055 | |
| 80 | 04-24 | 3 BR Premium | B5-2 | 98 | 1055 | |
| 80 | 05-24 | 3 BR Premium | B5-1 | 98 | 1055 | |
| 80 | 06-24 | 3 BR Premium | B5 | 98 | 1055 | |
| 80 | 08-24 | 3 BR Premium | B5-1 | 98 | 1055 | |
| 80 | 10-24 | 3 BR Premium | B5-2 | 98 | 1055 | |
| 80 | 11-24 | 3 BR Premium | B5-1 | 98 | 1055 | |
| 80 | 12-24 | 3 BR Premium | B5 | 98 | 1055 | |
| 80 | 13-24 | 3 BR Premium | B5-2 | 98 | 1055 | |
| 80 | 14-24 | 3 BR Premium | B5-1 | 98 | 1055 | |
| 80 | 15-24 | 3 BR Premium | B5 | 98 | 1055 | |
| 82 | 01-25 | 4 BR Premium | C1-P | 129 | 1389 | |
| 82 | 02-25 | 4 BR Premium | C1-2 | 129 | 1389 | |
| 82 | 03-25 | 4 BR Premium | C1 | 129 | 1389 | |
| 82 | 04-25 | 4 BR Premium | C1-3 | 129 | 1389 | |
| 82 | 06-25 | 4 BR Premium | C1 | 129 | 1389 | |
| 82 | 07-25 | 4 BR Premium | C1-3 | 129 | 1389 | |
| 82 | 08-25 | 4 BR Premium | C1-2 | 129 | 1389 | |
| 82 | 09-25 | 4 BR Premium | C1 | 129 | 1389 | |
| 82 | 11-25 | 4 BR Premium | C1-2 | 129 | 1389 | |
| 82 | 12-25 | 4 BR Premium | C1 | 129 | 1389 | |
| 82 | 13-25 | 4 BR Premium | C1-3 | 129 | 1389 | |
| 82 | 14-25 | 4 BR Premium | C1-2 | 129 | 1389 | |
| 82 | 16-25 | 5 BR-PH | PH1 | 160 | 1722 | |
| 82 | 01-26 | 3 BR Premium | B5-P | 98 | 1055 | |
| 82 | 02-26 | 3 BR Premium | B5-1 | 98 | 1055 | |
| 82 | 03-26 | 3 BR Premium | B5 | 98 | 1055 | |
| 82 | 04-26 | 3 BR Premium | B5-2 | 98 | 1055 | |
| 82 | 09-26 | 3 BR Premium | B5 | 98 | 1055 | |
| 82 | 10-26 | 3 BR Premium | B5-2 | 98 | 1055 | |
| 82 | 11-26 | 3 BR Premium | B5-1 | 98 | 1055 | |
| 82 | 12-26 | 3 BR Premium | B5 | 98 | 1055 | |
| 82 | 13-26 | 3 BR Premium | B5-2 | 98 | 1055 | |
| 82 | 14-26 | 3 BR Premium | B5-1 | 98 | 1055 | |
| 82 | 03-27 | 3 BR | B1 | 86 | 926 | |
| 82 | 04-27 | 3 BR | B1-3 | 86 | 926 | |
| 82 | 05-27 | 3 BR | B1-2 | 86 | 926 | |
| 82 | 06-27 | 3 BR | B1 | 86 | 926 | |
| 82 | 07-27 | 3 BR | B1-3 | 86 | 926 | |
| 82 | 08-27 | 3 BR | B1-2 | 86 | 926 | |
| 82 | 09-27 | 3 BR | B1 | 86 | 926 | |
| 82 | 10-27 | 3 BR | B1-3 | 86 | 926 | |
| 82 | 11-27 | 3 BR | B1-2 | 86 | 926 | |
| 82 | 12-27 | 3 BR | B1 | 86 | 926 | |
| 82 | 14-27 | 3 BR | B1-2 | 86 | 926 | |
| 82 | 15-27 | 3 BR | B1 | 86 | 926 | |
| 82 | 01-28 | 3 BR Premium | B4A-P | 98 | 1055 | |
| 82 | 02-28 | 3 BR Premium | B4A-1 | 98 | 1055 | |
| 82 | 03-28 | 3 BR Premium | B4A | 98 | 1055 | |
| 82 | 04-28 | 3 BR Premium | B4A-2 | 98 | 1055 | |
| 82 | 05-28 | 3 BR Premium | B4A-1 | 98 | 1055 | |
| 82 | 06-28 | 3 BR Premium | B4A | 98 | 1055 | |
| 82 | 09-28 | 3 BR Premium | B4A | 98 | 1055 | |
| 82 | 11-28 | 3 BR Premium | B4A-1 | 98 | 1055 | |
| 82 | 13-28 | 3 BR Premium | B4A-2 | 98 | 1055 | |
| 84 | 02-29 | 3 BR Premium | B5 | 98 | 1055 | |
| 84 | 04-29 | 3 BR Premium | B5-2 | 98 | 1055 | |
| 84 | 16-29 | 5 BR-PH | PH3 | 160 | 1722 | |
| 84 | 02-30 | 3 BR Deluxe | B6-1 | 93 | 1001 | |
| 84 | 03-30 | 3 BR Deluxe | B6 | 93 | 1001 | |
| 84 | 04-30 | 3 BR Deluxe | B6-2 | 93 | 1001 | |
| 84 | 05-30 | 3 BR Deluxe | B6-1 | 93 | 1001 | |
| 84 | 06-30 | 3 BR Deluxe | B6 | 93 | 1001 | |
| 84 | 08-30 | 3 BR Deluxe | B6-1 | 93 | 1001 | |
| 84 | 11-30 | 3 BR Deluxe | B6-1 | 93 | 1001 | |
| 84 | 12-30 | 3 BR Deluxe | B6 | 93 | 1001 | |
| 84 | 13-30 | 3 BR Deluxe | B6-2 | 93 | 1001 | |
| 84 | 14-30 | 3 BR Deluxe | B6-1 | 93 | 1001 | |
| 84 | 01-31 | 3 BR | B1-P | 86 | 926 | |
| 84 | 03-31 | 3 BR | B1 | 86 | 926 | |
| 84 | 04-31 | 3 BR | B1-3 | 86 | 926 | |
| 84 | 05-31 | 3 BR | B1-2 | 86 | 926 | |
| 84 | 06-31 | 3 BR | B1 | 86 | 926 | |
| 84 | 08-31 | 3 BR | B1-2 | 86 | 926 | |
| 84 | 09-31 | 3 BR | B1 | 86 | 926 | |
| 84 | 10-31 | 3 BR | B1-3 | 86 | 926 | |
| 84 | 11-31 | 3 BR | B1-2 | 86 | 926 | |
| 84 | 12-31 | 3 BR | B1 | 86 | 926 | |
| 84 | 13-31 | 3 BR | B1-3 | 86 | 926 | |
| 84 | 14-31 | 3 BR | B1-2 | 86 | 926 | |
| 84 | 15-31 | 3 BR | B1 | 86 | 926 | |
| 84 | 16-31 | 3 BR | B1-R | 86 | 926 | |
| 84 | 01-32 | 3 BR | B1-P | 86 | 926 | |
| 84 | 02-32 | 3 BR | B1-1 | 86 | 926 | |
| 84 | 04-32 | 3 BR | B1-3 | 86 | 926 | |
| 84 | 05-32 | 3 BR | B1-1 | 86 | 926 | |
| 84 | 06-32 | 3 BR | B1 | 86 | 926 | |
| 84 | 07-32 | 3 BR | B1-3 | 86 | 926 | |
| 84 | 08-32 | 3 BR | B1-1 | 86 | 926 | |
| 84 | 09-32 | 3 BR | B1 | 86 | 926 | |
| 84 | 10-32 | 3 BR | B1-3 | 86 | 926 | |
| 84 | 13-32 | 3 BR | B1-3 | 86 | 926 | |
| 84 | 14-32 | 3 BR | B1-1 | 86 | 926 | |
| 84 | 15-32 | 3 BR | B1 | 86 | 926 | |
| 86 | 01-33 | 3 BR Premium | B4A-P | 98 | 1055 | |
| 86 | 02-33 | 3 BR Premium | B4A-1 | 98 | 1055 | |
| 86 | 03-33 | 3 BR Premium | B4A | 98 | 1055 | |
| 86 | 04-33 | 3 BR Premium | B4A-2 | 98 | 1055 | |
| 86 | 05-33 | 3 BR Premium | B4A-1 | 98 | 1055 | |
| 86 | 06-33 | 3 BR Premium | B4A | 98 | 1055 | |
| 86 | 07-33 | 3 BR Premium | B4A-2 | 98 | 1055 | |
| 86 | 08-33 | 3 BR Premium | B4A-1 | 98 | 1055 | |
| 86 | 09-33 | 3 BR Premium | B4A | 98 | 1055 | |
| 86 | 11-33 | 3 BR Premium | B4A-1 | 98 | 1055 | |
| 86 | 13-33 | 3 BR Premium | B4A-2 | 98 | 1055 | |
| 86 | 14-33 | 3 BR Premium | B4A-1 | 98 | 1055 | |
| 86 | 15-33 | 3 BR Premium | B4A | 98 | 1055 | |
| 86 | 16-33 | 5 BR-PH | PH2 | 160 | 1722 | |
| 86 | 01-34 | 3 BR Premium | B3-P | 98 | 1055 | |
| 86 | 02-34 | 3 BR Premium | B3 | 98 | 1055 | |
| 86 | 03-34 | 3 BR Premium | B3 | 98 | 1055 | |
| 86 | 04-34 | 3 BR Premium | B3-1 | 98 | 1055 | |
| 86 | 05-34 | 3 BR Premium | B3 | 98 | 1055 | |
| 86 | 14-34 | 3 BR Premium | B3 | 98 | 1055 | |
| 86 | 15-34 | 3 BR Premium | B3 | 98 | 1055 | |
| 86 | 02-35 | 3 BR Premium | B5-1 | 98 | 1055 | |
| 86 | 04-35 | 3 BR Premium | B5-2 | 98 | 1055 | |
| 86 | 09-35 | 3 BR Premium | B5 | 98 | 1055 | |
| 86 | 11-35 | 3 BR Premium | B5-1 | 98 | 1055 | |
| 86 | 14-35 | 3 BR Premium | B5-1 | 98 | 1055 | |
| 86 | 01-36 | 2 BR | A1-P | 72 | 775 | |
| 86 | 02-36 | 2 BR | A1 | 72 | 775 | |
| 86 | 03-36 | 2 BR | A1 | 72 | 775 | |
| 86 | 04-36 | 2 BR | A1-1 | 72 | 775 | |
| 86 | 05-36 | 2 BR | A1 | 72 | 775 | |
| 86 | 06-36 | 2 BR | A1 | 72 | 775 | |
| 86 | 07-36 | 2 BR | A1-1 | 72 | 775 | |
| 86 | 09-36 | 2 BR | A1 | 72 | 775 | |
| 86 | 12-36 | 2 BR | A1 | 72 | 775 | |
| 86 | 13-36 | 2 BR | A1-1 | 72 | 775 | |
| 86 | 14-36 | 2 BR | A1 | 72 | 775 | |
| 86 | 15-36 | 2 BR | A1 | 72 | 775 | |
---
Book an appointment with us
Cindy Ng @ 97738372 or
Eric Tan @ 97881579
OR